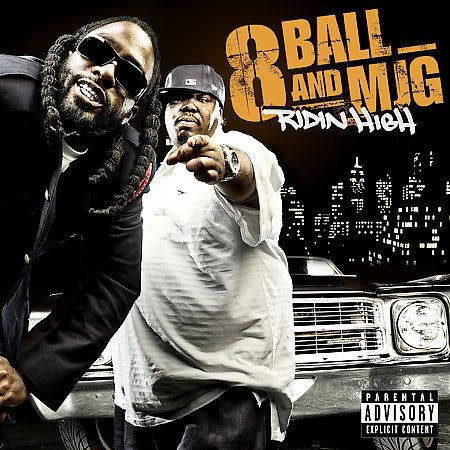 8Ball & MJG "Ridin' High" 3/5 Narks
Two guys that have been consistently heating up the underground in South are 8Ball & MJG. I first heard about them in middle school and have always appreciated the way they verbally spar with each other on their albums. With each album (9 so far), the duo has been just short of worldwide acclaim (one solo was even titled, "Almost Famous"). 8ball & MJG gained more pop-cred when they joined their Tennessee counterparts Three-Six Mafia & Young Buck on one of last years classics "Stay Fly". Their tireless effort finally caught the eye of Diddy and he signed them to Bad Boy a few years ago. "Livin' Legends" went gold in 2004, which was solid for the group, but didn't make the noise BBE expected.
Their latest effort, "Ridin' High", was just released with almost no promotion (sales of 45,000 in the 1st week), but shouldn't be ignored. Fans familiar with the group will love the bass heavy tracks, filled with the usual bravado and clever word play 8Ball & MJG always deliver. It may be devoted mostly to trunk rattlers ("Turn Up the Bump" and "Cruzin") and strip club anthems ("30 Rocks"), but many of the rappers in the industry could learn a thing or two from these legends as to how to make solid albums.
The highlight of the album is the title track, "Ridin' High". 8Ball & MJG spit their southern drawl with ease over a futuristic beat that could have been on "the Fifth Element" soundtrack. Its nice to hear the duo flow on a track that is more musically diverse than their usual fare.
Although they have rarely pop up on mainstream radio, 8Ball & MJG continue to make their presence known in knowledgable rap circles. Not by using lyrical genius or high-profile producers, but by consistently solid at showing the rest of the industry how Southern hip-hop is done.