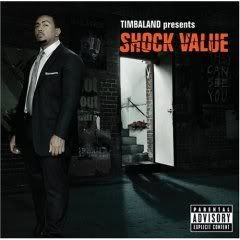 Timbaland – Timbaland Presents…Shock Value 4/5 Narks
On Shock Value, Timbaland experiments more than ever with new twists on familiar territory (Hip-Hop and R&B) and uncharted waters (New Wave and Rock). No matter the musical flavor, the production is solid on all fronts. Most of all, Timbaland sounds like he is having good time doing it. He does everything from beatboxing to crooning to rapping seamlessly without a care.
The all star line-up of guests do most of the lyrical work and Timbaland, similar to Rick Rubin and Dr. Dre, gets the most of his artists. The album starts with the only solo of the album, "Oh Timbaland". The song finds the super-producer spitting boastful rhymes like "Now I'm in a whole 'nother zone/you can let me do me/u can do u" aimed at copycats. The disses continue on the 1st single "Give It To Me". With assistance from frequent collaborators Nelly Furtado and Justin Timberlake, Timbaland fires a light-hearted shot at Scott Storch ("I'm a real producer and you just the piano man/your song gonna top the charts,I hear'em, I'm not a fan-n-n-n-n"). JT shows up again on "Release" which should heat up the charts/dancefloors just in time for the summer. Of all the features on Shock Value, newcomer Keri Hilson shines on 3 tracks, especially the syntisizer/beat box friendly "Miscommunication." Look for Mosley Music Group artist to have a big year in 2007 with her Timbaland executive produced album due.
The album only falters in a few spots and it isn't for lack of good production. "Bounce" looks like a sure-fire hit when Dr. Dre, Missy Elliot and JT show up on the liner notes, but falls flat with a senseless command to "Bounce that ass like you've got the hiccups" (filthy!). "Kill Yourself" features a particularly disturbing message to haters, but has a hauntingly good beat that would have been much better served with a verse from Eminem (Sebastian and Attitude don't cut it). 50 Cent sounds like he phoned in a recycled verse on "Come and Get Me" over the militia-like beat with choir-backing (how many times can 50 say the same thing over and over before the rest of the world figures it out?).
The second half of the album is especially diverse with Middle-Eastern samples ("Bombay"), punk rock (the Hives assisted "Throw It On Me"), and power pop on "The One & Only" (You have to love Timbaland's attempt at a Fall Out Boy impression with lead singer Patrick Stump already on the track). "Time", a tale about a love that can't be trusted by either party, stands out from the crowd on this stellar compilation. Up and coming new wavers She Wants Revenge help out one of their mentors on this 80's inspired tale full of exact snare drum, layered with synthesizers Duran Duran would be jealous of.
The only knock most naysayers have on Timbaland is his rhyming skills, but if you are looking for mind-blowing lyrics, you don't understand a Timbaland album. He won't blow your mind with 16 bars of philosophy (mostly bravado and partying), but he will by supplying the soundtrack to an album without musical barriers.

Timbaland ft She Wants Revenge – Time