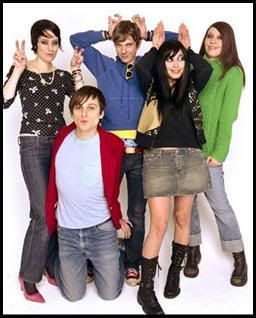 One thing about music that made me panic at first, is how there is so so so much of it. Some of you have expressed the concern to me on many occasions. It is hard to keep up. Just when you think you found an amazing new band, Rolling Stone or SPIN or a random blog throw another artist in your face. I have come to embrace this fact as of late. Especially, the more you branch out and are open to new artists and genres of music. A song could be 15 years old and still make you want to dig in the crates to find more.
Tilly and the Wall were a prime example of music overload for me. I heard about them at a time when I was listening to new albums by Arcade Fire, Kings of Leon, Bright Eyes and more than a handfuls of new singles. As I shuffled through the numerous files, "Bad Education" (released in May 2006) immediately stood out of the crowd.
The song begins with a mix of stomping and handclapping, while propelling to a flamenco trumpet, that brings to mind a bull-fight and a marachi band in the hottest part of Mexico. They even use tap dancing as a percusion instrument (genius!). The song is about a person with split-personality disorder, which the music reflects by stripping the sound down to choir-like vocals and light percussion by way of tambourine. The chorus is filled with enough anxiety to make an OCD sufferer pass out. "Tugging at the seatbelt/I'm jumping out the saddle/I'm shuffling my feet around/I'm kneeling at the steeple/When will my heart teeter, tatter?/I'm a believer, I'm solid matter."
Tilly and the Wall was formed in Omaha, Nebraska and recorded their first release, "Woo", in Bright Eyes' Connor Oberherst's garage. They have released two records so far and frequently collaborate with Saddle Creek artists (Bright Eyes, Park Ave…). They performed at SXSW in Austin, TX and should be rounding out the festival circuit through out the year.
Here is a taste of Tilly and the Wall: