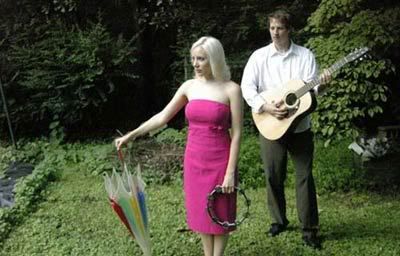 The Rosebuds Night of the Furies – 4/5 Narks
The Rosebuds are back with their latest offering, Night of the Furies and they've added a new twist to their style. The husband and wife duo of Ivan Howard and Kelly Crisp, known for their folk/indie rock melodies on the stellar Birds Make Good Neighbors, decided an electronic touch would be the perfect complement. This added element makes for catchy hooks that bring an indie-feel to the dancefloor.
The lead single, "Get Up Get Out", is one of the stand out tracks that showcases the group's embrace of dance beats. The dark, yet danceable tune features Ivan suggesting a companion the opportunity to "get out" and experience something new and exciting. It seems as though the song could also be in reference to this new and welcome sound the Rosebuds experimented with on Night of the Furies.
Other favorites include the grandeur sound of "Cemetary Lawns", the sonic handclaps on "Hold On To This Coat", and the odd, yet foot-tapping "I Better Run". The cowbell infested track features Ivan as a one man choir on the chorus, while Kelly seductively speaks of family heirlooms and her need to escape (as far as I can tell).
The only bad thing I can mention about the Night of the Furies is the short track list. At 9 tracks, it leaves the listener eager for more. Maybe its the fact that I am used to most rap (not hip-hop) albums that boast bloated tracklists 19 to 22 songs deep. Those albums usually contain garbage skits and filler tracks that aren't worth more than one listen. Fortunately, the replay value of the Rosebuds music is very high, especially on this album.
In the Rosebud's bio, it states "we set about recording these and other stories right away and Night of the Furies is the result. It is a dark, sexy, danceable, nuanced, and sublime record." And they effectively did so, its just a shame there wasn't more of it.
The Rosebuds – I Better Run