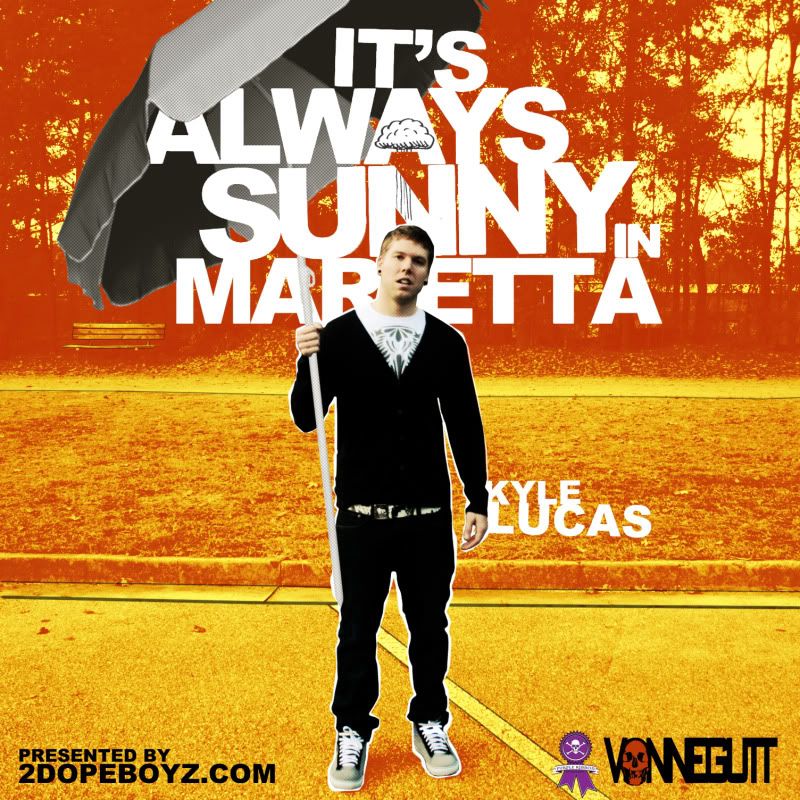 Its long overdue, but its finally here. Some of these tracks have shown up on this site throughout the year ("Control", "Purple Ribbon Rep", "Queen of Apologies") but most are brand new. They also have Big Boi's signature of approval. Based on recent previews via uStream sessions, I can attest that "So High", "Speak To Me" and "Neck Tie" are ridiculously dope. And those are the just track names that look familiar.
Enjoy and let me know what you think. I'll give some more feedback once I've had a proper listen.
Kyle Lucas – Its Always Sunny In Marietta (Mixtape) (.zip format)
Tracklist
01 Big Boi Intro
02 It's Always Sunny (prod. Nobody Famous)
03 Control f. Metro Station
04 The Funeral Freestyle
05 So High f. Slimm Calhoun (prod. Simon Illa)
06 Purple Ribbon Representative
07 Sexy Bitch Freestyle
08 Neck Tie (prod. Nobody Famous)
09 Hurts Like Fuck (prod. Simon Illa)
10 Ambitionz Freestyle
11 To Whom It May Concern (I Hope You Die)
12 In The Air f. Vida
13 Nights Like These That Haunt Me (I Stole That Lyric From Ben Grant)
14 Cuckoo Freestyle
15 Speak To Me f. Donwill (of Tanya Morgan) & Danger Radio
16 Cell Therapy Freestyle f. Syd Vicious
17 Red Button (Simon Illa Remix) f. Mike Posner
18 Here We Go (Remix) f. Izrael & Rellik Rebel (prod. Simon Illa)
19 Queen of Apologies (prod. Patrick Stump & Simon Illa)
20 Indie Chic f. Hott Mess
21 Til We Meet Again (Kyle Verse) f. Izrael (prod. Simon Illa)
22 Hell on Earth Freestyle
23 Nothing's Wrong, Nothing's Right (prod. MW)
24 Dear Kyle, Please Stop Complaining (prod. Patrick Postlewait of Vonnegutt)
25 Big Boi Outro
26 Hating On Me is So Last Year f. Andy Milonakis (prod. Simon illa) [Bonus]
27 This Love [Bonus]
In case you don't have the last one, its been re-up'd below:
Kyle Lucas – Kyle Lucas Is Still My Favorite (Mixtape)
Follow Kyle Lucas on Twitter.